Highgate:
North London Garden

This house has a large garden with a lovely relaxed woodland atmosphere that slopes quite steeply up away from the house. The house itself has recently had significant work undertaken on it to create a bigger home. However, the interface between the garden and the house was in need of a complete make-over. The overgrown steep slope close to the house meant the garden could not be seen and the two felt disconnected. The gravel surface was unsuitable for a seating and entertaining space and the area close to the house was mostly in the shade. The overgrown bed also discouraged the owners from sitting out as it was messy and unattractive.
​
Before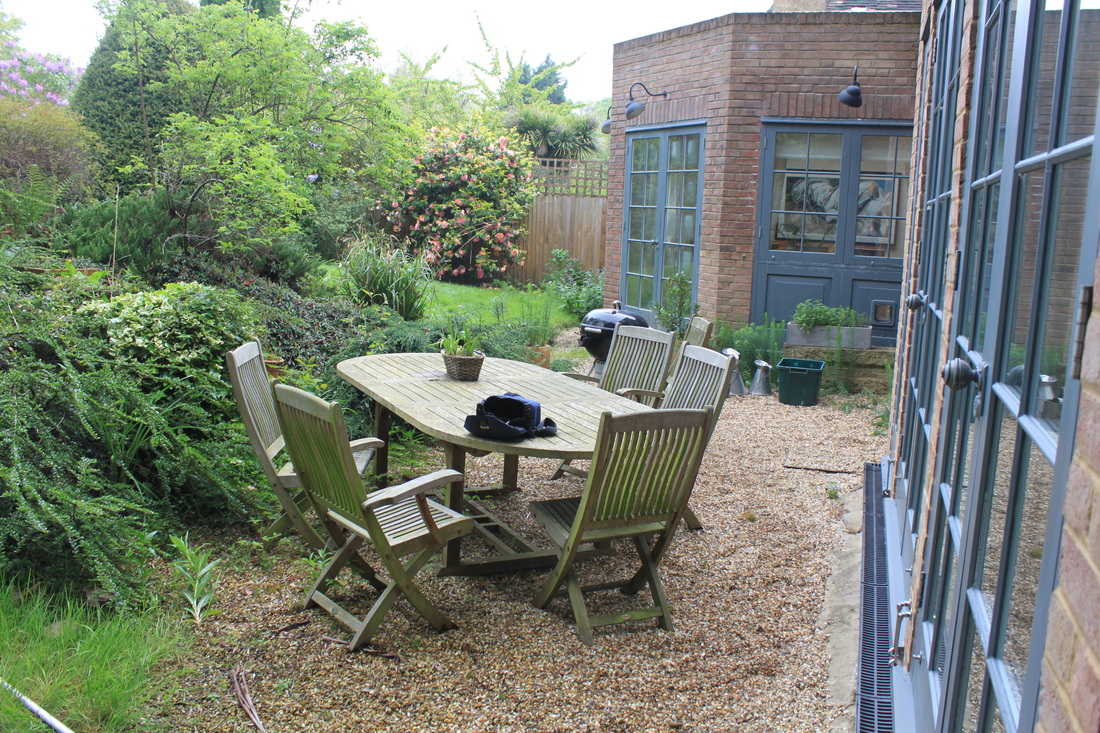 The Garden before redesign. The area was very overgrown with little space, and the table was in the shade and rarely used.

Design Solutions

The whole garden area needed to be redesigned to deliver an attractive entertaining space that encouraged people out into the garden, linked the house and the garden together and had attractive planting. It was particularly important that the garden looked good from within the house as well, since the two main living areas; the kitchen and the lounge, look directly out onto this area.
​
After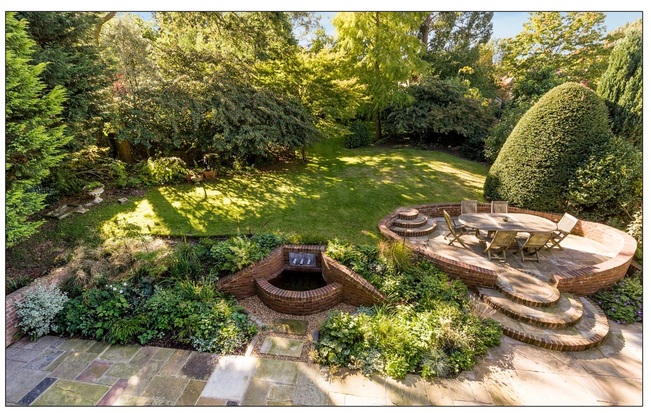 A view of the completed garden from the upper floor of the house. The terrace is larger and paved and a new oval terrace, steps, planting and water feature link the house into the garden.
A number of key design features were introduced to deliver this garden and the desired outcomes. Firstly, the old patio surface was widened and the gravel replaced with beautiful reclaimed old Yorkstone. This material works very well in the woodland atmosphere of the rest of the garden and is entirely in keeping with the age of the house. The old overgrown and unstructured flower bed was removed and replaced with an eye-catching bespoke water feature with sculpted flower beds wrapped around each side. The water feature is attractive in itself, but also now allows clear views into the rest of the garden from the patio and house. The flower beds have been replanted with plants that are tolerant of shade and provide year round interest including plenty of flowers. The new beds now link the house and the garden, rather than separating them as previously. A medium sized Acer tree and grasses provide height to the beds, but do not block the view through the garden. Finally and most importantly an oval entertaining area has been designed to sit half way up the slope to the garden. This not only moves this important functional area into the sun, but also really joins the house to the garden by breaking up what had been a large grassy, slippery slope. This terrace area sits opposite the kitchen doors where the family spend a lot of time and two sets of circular steps encourage you both to sit outside and to explore the garden further.
​
Construction by Living Landscapes http://livinglandscapesuk.com/