Bounds Green:
North London Suburban Garden

This project was to re-invigorate an overgrown suburban back garden without undertaking major hard landscaping building. The garden was East-facing, relatively long and narrow with plenty of light, and gently sloped away from the house. The garden consisted of a central lawn that ran uninterrupted the length of the garden with beds down each side. The beds were full of very large overgrown shrubs, planted too close together. The result was a tangled jungle of shrubs that overhung the grass and created a dark tunnel effect down the garden with no other plants able to grow at their bare woody bases.
The client wanted the garden to be opened up so that individual plants could be appreciated. The bottom of the garden kept the sun all day so they wanted a seating area there and some form of path to lead there, particularly noting that the grass was in very boggy soil. They were also fond of plants in pots and wanted an area to display these.
Before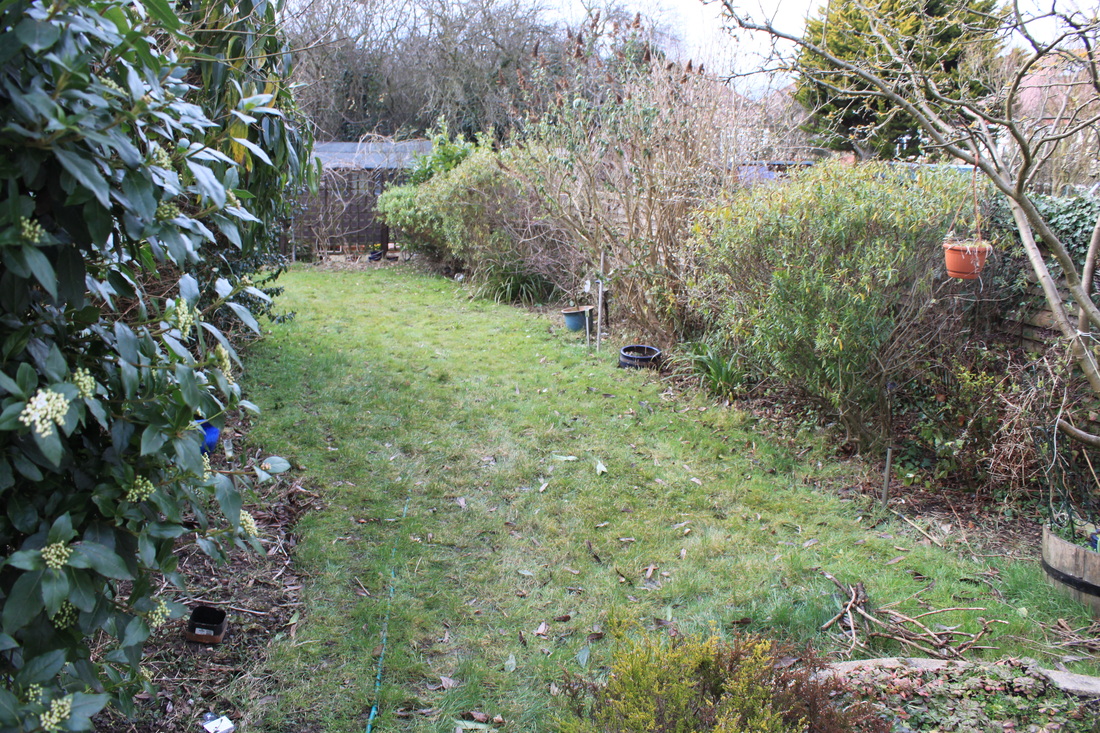 The Design Solution
The first challenge was to persuade the client to allow removal of a large number of the congested and unhealthy shrubs. The beds were then carefully redesigned with planting that would allow a mixture of attractive shrubs and perennials to flourish together and provide shape and structure to the garden. This also allowed for the garden to contain flowers and interest throughout the year. This redesign resulted in the 'opening up' of the garden and the deployment of a variety of heights of planting to add interest and improve views. The 'tunnel' appearance of the garden was thus removed and the garden felt much more spacious. The newly exposed fences are now used for flowering climbers and the new shrubs will be carefully controlled by regular pruning.
​'Light touch' hard landscaping such as the addition of the pergola and splitting the lawn into two sections, as well as the wooden sun patio and gravel area for pots at the end of the garden, break up the garden into smaller areas; making it feel larger and providing a variety of hard structural interest. The garden is one that can now be properly used throughout the year and there is space to relax and enjoy being in it.
After